Tone-on-tone outfits are boring and uncreative? Not at all! In times of minimalist trends and clean cuts, monochrome looks are very high in the course. Monochrome outfits often look more exciting than some colorful combinations.
On my fashion blog I will show you today what it is all about Tone-on-tone outfit arrives and tell you 4 matching styling tips to.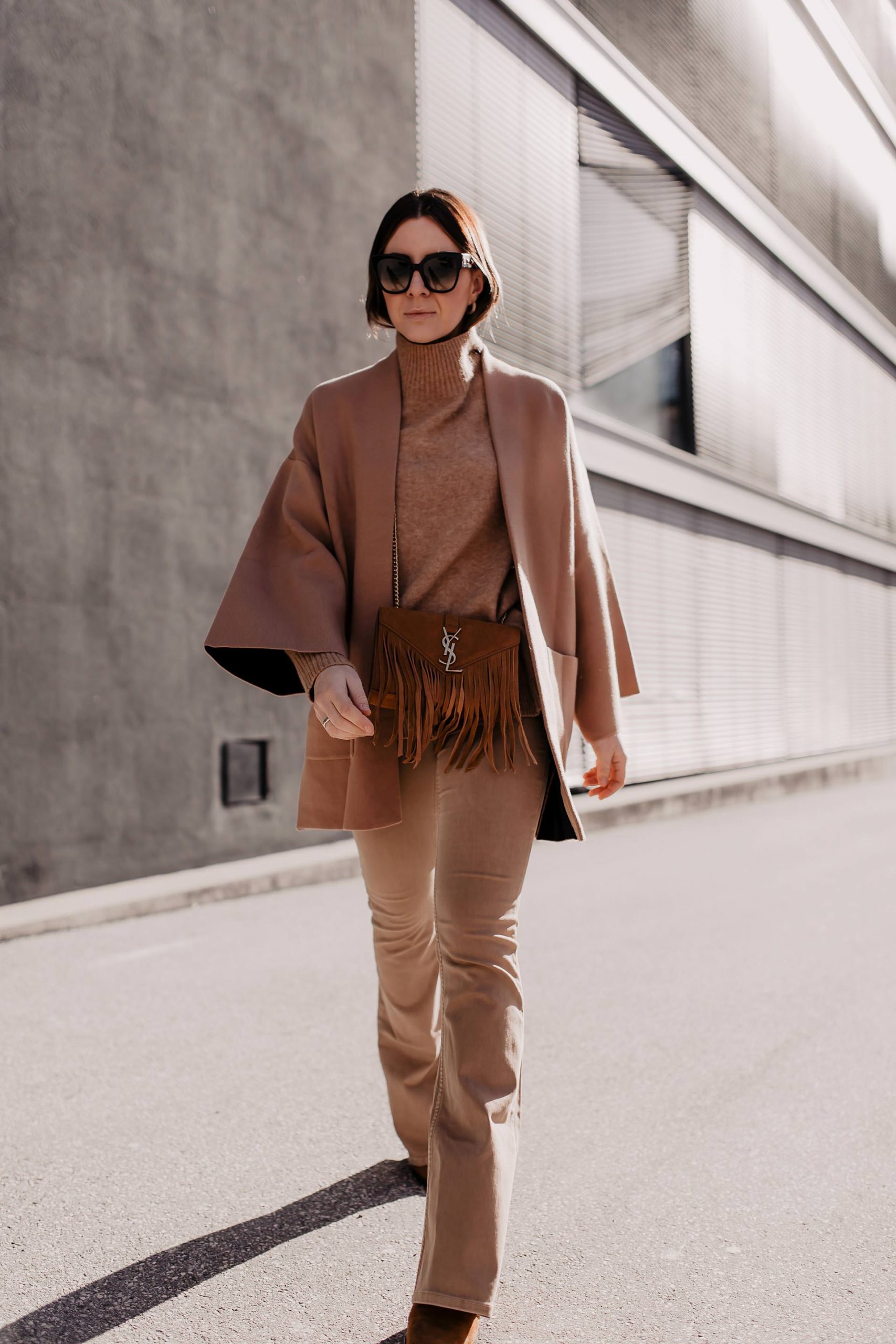 My tone-on-tone outfit in beige
I chose this time Color family beige decided and combined many favorite pieces. So I wear a turtleneck with a matching color and beige flared jeans and a loose knitted coat. I'm wearing my bag and shoes Cognac brown oriented to my look yet more warmth to rent.
4 styling tips for the monochrome tone-on-tone look
What defines the tone-on-tone look? It's primarily about Garments and accessories from one color family to combine with each other. Not all pieces have to match the exact same shade, a bit color scope can also be included here.
It doesn't matter whether you choose a tone-on-tone outfit in red, beige, white or dark blue – the important thing is that the cuts harmonize and you too high quality pieces puts.
Matching colors: As just mentioned, the colors chosen do not have to be the exact same shade. A light blue blouse works great with a cobalt blue business suit and dark blue pumps. Or just a red-striped pleated skirt with a red wool sweater and dark red loafers. Just make sure you don't mix cold and warm color undertones together. An orange-red shirt can look a bit uneasy with jeans in Bordeaux! By the way: tone-on-tone outfits in khaki or soft gray are perfect for the office!
Different materials: If you want to combine a uniform look in any color, pay attention to a mix of beautiful materials. Silk to knit, satin to wool, denim to leather – especially such contrasts make a lot of things in monochrome outfits and are anything but boring.
Laminate with color: If you want to hide certain parts of the body, uniform looks are ideal for this. Use a colored highlight to focus on those parts of the body that you love and want to emphasize. For example, grab a bright red long blazer if you want to hide your hip a bit. You can distract from a broad shoulder area with eye-catching paperbag trousers or a chic midi skirt.
Layering outfits: The tone-on-tone fashion trend is made for beautiful layered looks. For example, the beige turtleneck sweater fits perfectly under a midi dress. In addition, a matching cardigan with belt and chic boots – that's all it takes! But simple layering outfits also work in a color family. One of my favorite looks is, for example, beige jeans with a light tunic and matching sneakers.
How do you like my tone-on-tone outfit?

You can find more suitable outfit ideas for the tone-on-tone fashion trend here: