Icy temperatures in the winter and warm heating air often make our skin really difficult, because it just screams after humidity. Today's post here on my Beauty Blog is therefore all about mine Winter skin care with aloe vera.
Because the Medicinal plant aloe vera is a real miracle cure and contains important ones Active ingredientsthat of our skin in the cold period Moisturizes and yourself have a positive impact on our health can.
In collaboration with NIVEA, I will tell you 5 reasons why aloe vera is healthy for your skin and what things you do with it Skin care in winter you should pay particular attention.
This is what my winter skin care with aloe vera looks like!
Aloe vera, also real aloe is one tropical medicinal plant, which has a long tradition and was used in medicine and cosmetics more than 5,000 years ago. For example, Cleopatra and Nefertiti already enjoyed the nourishing effect the aloe vera.
The medicinal plant was originally located on the Arabian Peninsula. Today, however, it is found in many regions of the world, such as the Canary Islands, India or Mexico, where it is mainly grown.
The plant has long been "Healing" powers promised. It should among other things promotes wound healing, immune boosting and anti-inflammatory Act. That is why it is often used in both the medical and cosmetic fields.
5 reasons why aloe vera is good for your skin
Moisturizing: Aloe vera is a real one Moisture booster for your skin. Even the smallest dose is enough to moisturize your skin and treat small cracks and dry areas. The plant also has one cooling effect, which ensures a pleasant freshness effect.
Wound healing: Who does not know it: small, painful cracks and dry spots on the hands and face are often the order of the day in winter. They don't look beautiful, nor are they really pleasant. The right winter skin care, however, leaves little Skin damage disappears in an instant. Because aloe vera contains active ingredients that have a healing effect on your skin.
Antibacterial and antiviral: Winter time is flu time. In addition to moisturizing and wound healing factors, aloe vera also has antibacterial and antiviral properties. Of the Active ingredient acemannan, which is contained in the medicinal plant, is deposited in the cell membrane of the skin and protects them from fungi, bacteria and viruses.
Immune strengthening: Did you know that aloe vera care products too? good for your immune system are? The natural remedy strengthens the T-killer cells and the red blood cells that are responsible for that Defense against diseases are responsible. So your immune system is well prepared in winter.
Contains vitamins, minerals and trace elements: Aloe vera contains innumerable vitamins, minerals and trace elements such as Vitamins A, B, C and E, chromium, iron, magnesium and zinc. Among other things, these substances are good for the function of the organs and for the metabolism and help your body to get through the cold season.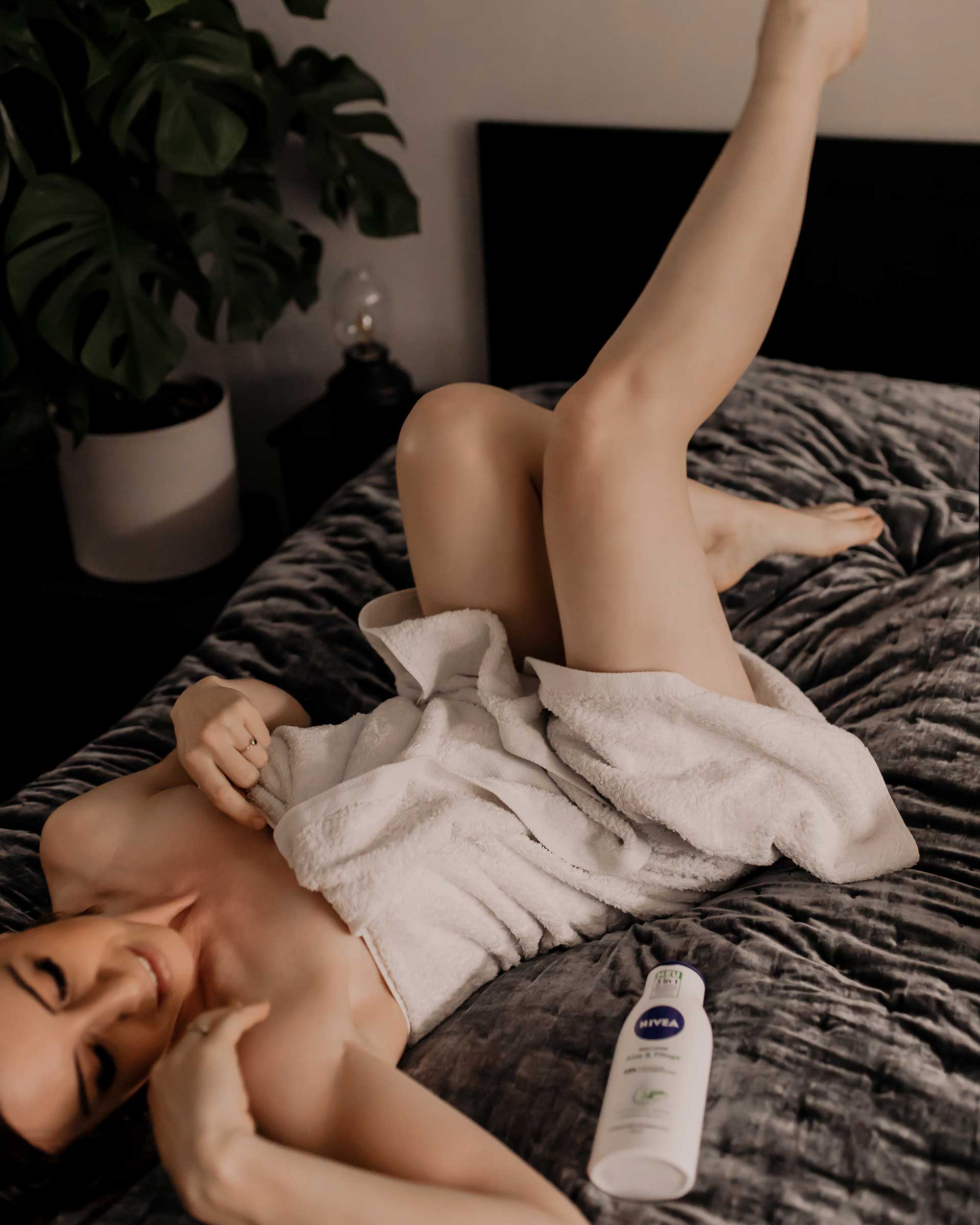 My skin care tips for winter
Aloe Vera products support your skin in winter, but there are still plenty Tips for usethat you can try in combination with the natural remedy. Here I tell you which ones:
I take care of my hand care, always outdoors Gloves to protect my hands from drying out.
After washing your hands I dry my hands wellbefore I use a hand cream. As a result, my skin does not dry out and the cream can absorb better.
Before I use care products, I make sure that mine Skin clean is. This prevents dirt from getting into the skin pores.
My favorite NIVEA care products with aloe vera
Aloe vera care products are booming in the beauty and cosmetics market and it is often difficult to do that suitable product to find. I personally have appreciated that for a long time Aloe Vera care products from NIVEAbecause they are good for my skin in winter.
Aloe & body lotion care: This body lotion makes the skin in winter smooth and soothing she. It promises up to 48h moisture – the perfect care for skin plagued by heating air.
Labello Caring Lip Scrub Aloe Vera: Dry and chapped lips are unfortunately a constant companion in the cold season. The labello with aloe vera is the one for me perfect lip care and not only moisturizing, but also has an additional one Peeling effect. Small peeling particles made from cornstarch dissolve when applied to the lips and leave one behind soft protective film.
Rice peeling organic aloe vera: The aloe vera peeling is suitable for normal and combination skin, comes all the way without microplastics and helps my skin to get rid of dry skin cells. This makes the skin work fresh and healthy and can better absorb subsequent care products.
Aloe vera hand cream: It gives my hands a real one Moisture booster and moves in very quickly. So I can use it more often during the day, since it leaves no greasy traces.
What does your winter skin care look like? Are you such a big Aloe Vera fan too?